Band:
1) Oh Lonesome Me (Ken Lovelace)
2) I Love to Ride (Robert Hall)
3) Wooly Bully (Kenny Lovelace)
4) The Fireman (Buck Hutcheson)
Jerry:
1) Roll Over Beethoven
2) You Win Again
3) Why You Been Gone So Long
4) You Belong To Me
5) Another Place Another Time
6) Before The Night Is Over
7) Lewis Boogie
8) Sweet Little Sixteen
9) No Headstone On My Grave
10) Hadacol Boogie
11) As Far As I'm Concerned
12) Your Cheatin' Heart
13) Great Balls Of Fire
14) Whole Lotta Shakin' Goin' On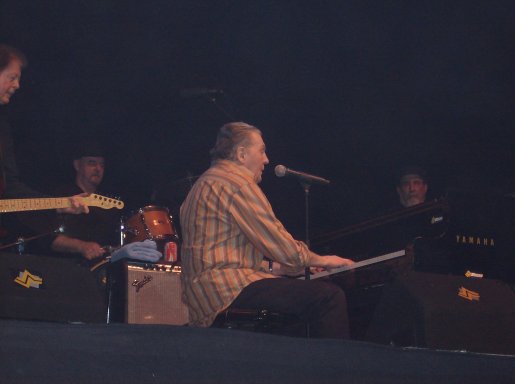 Jerry Lee Lewis in Brussels (March 15, 2007)
Picture: Joffrey Stroy
See Pictures section for more pictures of this show

Jerry Lee hasn't been to Brussels or even Belgium since 2000 when he did the 3 legends tour with Little Richard and Chuck Berry. Being from Belgium myself, I was really excited that Jerry would come once more to our small country. The concert took place in 'Forest National' in Brussels, a venue that can hold, according to their website, 7000 people. A week or so before I mailed them to ask how many tickets were sold; about 76%. Once in the concert hall, it seemed like a lot more. Only the upper ring was still pretty empty before the show began. I also can imagine that a lot of people didn't make it or came late due to the difficulty of finding the adress and the lack of road signs in Brussels.

Doors opened around 19.30Hrs and camera's were not allowed inside, altough I (and many others) succeeded in bringing it in anyway. The support act was named BLUNK (blues + funk), a group unknown to me but they were pretty good (not great).

Than the band came on and each of them did a song (see setlist), of which B.B. surprised me the most, with a great version of Wooly Bully. Robert Hall made a remark before he sang his song, that he dedicated this one to François, a Belgian guy who he rode motorcycles with. Around 21.45Hrs Kenny introduced The Last Man Standing, Mr. Jerry Lee Lewis. Jerry sat down and first made sure his piano sounded good, after a few seconds the best show I ever saw got started. My fear of Jerry being tired or having a weak voice was immediately gone when I heard the long, fast version of Roll Over Beethoven. After doing You Win Again, Why You Been Gone So Long and You Belong To Me, he surprised us with Another Place Another Time. When the applause for Before The Night Is Over was over, I shouted: "Lewis Boogie!!" and Jerry said: "Lewis Boogie? I'll do it if I can remember the words to it." He did remember the words to it and out came an awesome version of the song Jerry wrote about himself, 50 years ago. Sweet Little Sixteen and No Headstone On My Grave were performed good but without anything special to it. Hadacol Boogie on the other hand was, to me anyway, done faster and with more and longer pianosolo's than usual. As Far As I'm Concerned made the audience very quiet. "By request", Jerry said, and started a great version of Your Cheatin' Heart. By this time I was thinking, Wow!, this show will certainly be the best and longest of the tour so far. I was right, the best version of Great Balls Of Fire that I heard in a long time made the audience go crazy! He pounded those high notes as if it wasn't going to end, taking us all back to the movie Great Balls of Fire and I was looking for a depressed Chuck Berry at the side of the stage, haha! Still being treated with applause and cheers from the crowd, he started Whole Lotta Shakin', leaving us all as if we were hit by a hurricane!! Thank you Jerry for this wonderful show.

70 minutes of Jerry Lee in a great shape has made it the best show I saw since my first one in 1999!