The show got off to a great start as the whole audience rose to its feet to honour Jerry as he walked on stage. Jerry came on in a light blue suit and in honour of his visit to Scotland he was wearing a tartan tie! He started with "Why've You Been Gone So Long" and as the audience went wild at the end of his first song Jerry apologised for missing a few words. He said, "When you get past 30 you sometimes forget things!" He said he was feeling his throat a little and joked that sometimes the words just don't come out. He then started "Great Balls of Fire" WITH HIM MIMING THE WORDS as if he couldn't sing. This got great applause and was really funny to see.

"Blues at Midnight" followed with extended solos from Jerry and some real "Urban Blues" licks from Jimmy Rip. During "Blues at Midnight" he did several "runs" and it is always amusing to watch as his fingers run up to the right hand side of the keyboard and he carries the "run" on past the last key, pats the side of the piano and comes back in perfect time for the "run" down. Wonderful to see Jerry enjoying himself. As if to prove his earlier statement about being forgetful, Jerry then launched into "Why've You Been Gone So Long" for the second time. He completed the number and the crowd loved it. Jerry seemed unaware that he had repeated the song.

He did a great interpretation of "Sweet Little Sixteen" and then slowed the pace with a sorrowful "She Even Woke Me Up To Say Goodbye" complete with a spoken ending. Then it was "Drinkin' Wine Spo-Dee-O-Dee", followed by "Trouble in Mind" then straight into "Chantilly Lace".

At this point people in the crowd were shouting requests for a huge variety of songs, but Jerry launched in a long version of "Whole Lotta Shakin'" and ended the show with a powerful "Great Balls Of Fire". During the song he played several notes with his boot and then hit a further five chords with the boot too - all sounding perfectly musically - not just kicking the keyboard as all the impersonators do. Kicking the stool over got a great reaction and the audience gave him a standing ovation at the end that last for several minutes.

It was a great show and the almost capacity audience loved it. It was extraordinary as his voice is in good shape and his piano playing has all the old power that we love. This is Jerry Lee Lewis - the real thing. UK Fans are going to have a great time at the next three shows.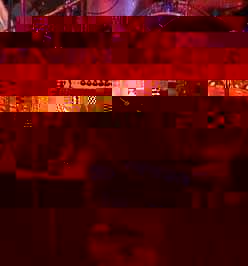 Jerry in Glasgow
Picture: Scotland Today