Set list:

1) Drinkin' Wine-Spo-Dee-O-Dee
2) Why You Been Gone So Long
3) You Win Again
4) Don't Put No Headstone On My Grave
5) Lucille
6) Chantilly Lace
7) Georgia
8) Whole Lotta Shakin' Goin' On
9) Great Balls Of Fire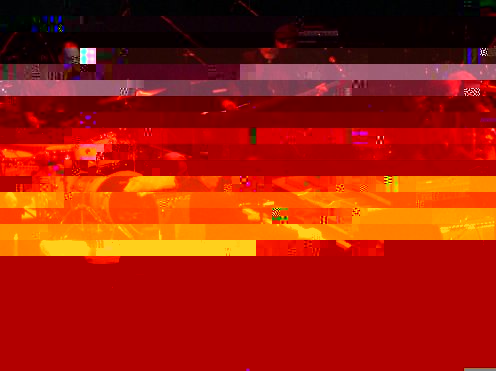 Jerry Lee Lewis in Manchester
Picture: Richard Harvey
See www.suaveharv.com/jerry.htm for more pictures of this show
Richard Harvey:
Jerry Lee played a short set, and his piano playing was flamboyant and most pleasing. The piano sounded horrible though, perhaps it was because I was in the circle? But anyway. . No great surprises in the set, but here are a few things I noted and loved:
The ending to Lucille, the quick Lewis 'flick' with the both hands and the band, almost subliminally know when to stop. Wow!
Georgia is being played faster these days isn't it? It was a nice version tonight.
No 'movie version' ending to GBOF. He kicked the stool away before that bit. NO LEWIS SHUFFLE EITHER!!! He looked happy to get offstage.
He went from Spo-Dee-O-Dee straght into Why You Been Gone So Long - shades of Blackpool 2004!
There was a great left handed bass run in one song . . can't remember which.

Scott Doran:
Jerry played for 27 minutes. He came on stage in a black suit and looked very good. Jerry came on to a massive applause and he acknowledged the crowd with a cheeky little smile. He brought on a can of Coca Cola and plonked it down on top of the piano as he does and began playing.

Throughout the show he did lots of Lewis yelping as he does between numbers and a few karate chops on his leg and the piano. The piano lid got slammed once, and the stool went flying during Great Balls Of Fire the usual Lewis Way.