Set list:
1) Roll Over Beethoven
2) Coming Back For More
3) Chantilly Lace
4) Boogie Woogie Country Man
5) You Win Again
6) Sweet Little Sixteen
7) She Even Woke Me Up To Say Goodbye
8) Whole Lotta Shakin' Goin' On
9) Great Balls Of Fire

Show length: 25 minutes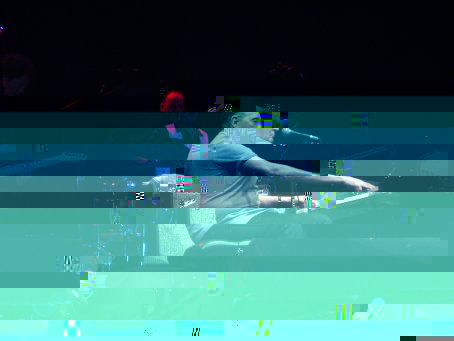 Jerry in Nice
Picture: Pierre Pennone
See the French website for more pictures
Pierre:
The venue was absolutely beautiful, a small arena oriented South to the sea, no reserved seats but they had seats, with a capacity of about 1200 people. It was very pleasant, not hot, a little breeze, and the show started by day light and the sunset happened as Jerry played. It couldn't be better. The same first group as on all French gigs (Trio Belleville) made half an hour, with Robert Hall supporting them from the back of the stage as he loved their "Django Reinhardt" style), they were well received although it was not a rock band.

Jerry arrived with Phoebe, JW and Patrick Rocher just when Kenny and the Band went on stage. They quickly locked in the dressing room, Jerry looked OK but Phoebe and JW looked nervous so I immediately left to take my seat that Bruno had reserved on the first row (left of the keyboard) for me before the audience could came in. I couldn't be seated better!

The band did their four regular numbers (Columbus Stockade Blues, Old Time Rock 'n' Roll, Honey Don't, Bye Bye Johnny) and Jerry came on stage guided by Patrick Rocher. Jerry has no problem to walk by himself on stage, but it is dark and full on cables on the floor, that's the reason of that help. He started with Roll Over Beethoven and seemed OK, but I found his piano playing not as imaginative as in Lyon. The crowd was very cheerful and there was not such silence as in Lyon between numbers trying to understand Jerry's talks. Security had problems with rockers trying to get on front of the stage and they kept them 2 meters away in the aisles.

The second song was a surprise (Coming Back For More) and I expected a great show. I had asked Kenny and BB to suggest "Mona Lisa", and so when Jerry turned to Ken of the third song, Kenny proposed it to Jerry with a big smile to me, but Jerry said he would do it a bit later and he did Chantilly Lace. All songs were well received. Denis Angelotti shouted for "She Even Woke Me Up" and Ken passed the message, so Jerry did it. It was the best number in terms of piano playing, Jerry worked harder on that one. Beautiful. Ken suggested again "Mona Lisa" but it was not my night, and Jerry did Sweet Little Sixteen. Boogie Woogie Country Man was cut short. Whole Lotta Shakin' came as a shock, being so early in the show. Before that Jerry had a long talk with Phoebe across the stage, nobody could understand what it was but she was grinning to him. Jerry looked unhappy about something between them. Of course GBOF closed the show with the piano stool flying away. And Jerry left.

The audience shouted for Jerry, but he was fast to his car and back to the hotel. There was a lot of confusion back stage because of the show length which was well under the contracted 45 minutes. It is difficult to understand why the show was not longer like in Amsterdam, Paris or Lyon. Jerry seemed alright and was alright after the show. Overall, it was a good night for hardcore fans, but too short obviously for the audience. As NICE MATIN (local paper) said in a long article, "brilliant but too short".
Niek and Maarten:
The show was short and kind of disappointing. Jerrys voice sounded much weaker than in Amsterdam, his piano playing was very basic and most of the time you couldn't hear the piano at all because it seemed he lost most of the power in his arms and or fingers. Only during Shakin' and Sweet Little Sixteen he was really playing powerful. He was wearing the same clothes as in Amsterdam. Alltogether it seems Jerry was not recovered from all the travelling and St Etienne. Outside the beautiful venue lot of disappointed faces. It was pleasant to have some drinks after the show with some fans and band members.