Set list:

1) Roll Over Beethoven
2) Sweet Little Sixteen
3) No Headstone On My Grave
4) Rockin' My Life Away
5) Drinkin' Wine Spo-Dee-O-Dee
6) C.C. Rider
7) Whole Lotta Shakin' Goin' On
8) Great Balls Of Fire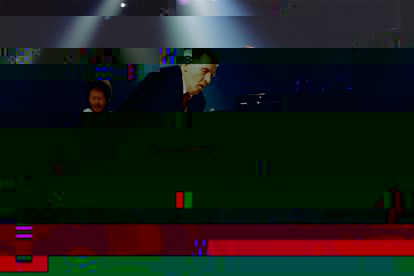 Jerry Lee Lewis in Toulouse
Picture: Jose Miguel Lacasa
See Pictures section for more pictures of this show
Rock-Mann:

Jerry Lee Lewis did a GREAT SHOW at Toulouse. The club is like a big discotheque with a full and enthusiatic audience of over 1000 people.

The show started with a local band then Raymond Blondell took the stage and sang 2 rockin`songs with the Killer Band. Raymond and the band did a good job - and the audience liked him. After this Kenny sang "Starkey Blues". The Killer stood backstage and watched Kenny doing the song. He was dressed in a black/grey Combination with very shiny, magnificient RED BOOTS.

After Kenny finished - the Killer took the stage - and believe me this was the most dynamic Rock`n Roll show I have ever seen in my life. This was really Rock`n Roll!!! Up Tempo, just rockin`!!

I UNDERSTAND NOW THE FEELING OF A YOUNG GRAHAM KNIGHT BACK IN THE SIXTIES. THIS WAS REAL ROCK`N ROLL.

The French audience were very enthusiastic and realised that this was a very special Event with the greatest Rock Star on Earth.

The show featured long excellent solos from Jerry Lee and also from Kenneth. I presume the show was abt. 40 Minutes - but I enjoyed EVERY MINUTE. THIS REALLY WAS ROCK`N ROLL AT HIS BEST. THE KILLER REALLY PROOFED THAT HE IS A "LIVING LEGEND" - (I REPEAT: "LIVING") He walked YOUNG on the stage and KICKED HIS CHAIRÂ when he left - and the crowd got nuts.

TELL EVERYBODY: THE KILLER IS STILL ROCKIN`!!!!!!
Amadeo Pujol Badia:
I had been waiting for this day since last January when I bought the tickets. After all these months the day was there. Ale, his girlfried, a friend of mine and me went from Barcelona to Ramonville by car. Our hotel was just near Havana cafe©. The doors should have opened at 7 o'clock (finally it was at 20h) and we were on queue two hours before. There we talked with people from France, Italy, Switzerland and Sweden. Nerves were increasing because the hour was near.

At the end the doors opened at 20h and we ran to the stage to get a good place. We were at the first row, two meters a little cornered to the right of the piano. A French group played first. Then appeared Kenny Lovelace and the rest of te group and Blondell (it's not a bad singer but nothing special. His Elvis movements..no comment ..). After Blondell, Kenny played a song ("Starkey Blues").
At last, Jerry walked on stage. You canīt imagine (or maybe you can) my emotion! A great moment! Jerry quickly sat down at the piano and played "Roll over Beethoven" (fast and clear vocals). When he finished the song, I tried to use my digital photo camera to film (it's able to film a few minutes). So I filmed almost the entire next song:"Sweet Little Sixteen" (including Jerry kicking the piano keys with his red boot at the end of the song). Jerry was smiling a lot while he was singing. He seemed very comfortable. Next song was "No Headstone On My Grave" (one of the best versions that I have ever heard). My camera missed the final of the song. Next song and one of the best of the night: "Rockin' My Life Away", very fast. I have filmed this completely. By the way,Jerry smiled at me while I was singing the Rockin' My Life Away lyrics at the same time as him!!!! (Great moment!!!) Jerry didn't talk between songs. Only: "All right, thank you." Next: "Drinkin' Wine" (a faster version that the last versions that I have heard this year). I filmed the entire song. Jerry, without stopping or talking, began the next song: "C.C. Rider". It was the last song I filmed, not completely because the memory card was full!! Shit!!! The next two songs:"Shakin'" and "GBOF". Excellent versions, full of energy. Jerry ended kicking back the chair, saluted the crowd (no shaking of hands with people) and walked off stage. Only 23 minutes (21:15 to 21:38). To be sincere the people weren't happy with the short set. We waited for 5 minutes to see if Jerry came back on stage but nothing...

B.B.Cunningham came back on stage to disconnect the machines and told us that the reason was the excessive heat. I accepted this (to be sincere the heat was great on the first rows), but it's a pity for me that my first Jerry Lee Lewis show was 23 minutes (to read next day about the lenght of the Divonne show). Although Jerry didnīt drink nothing and didnīt take off his jacket, at that moment that reason was acceptable for me. I hope to see Mr.Jerry Lee Lewis again. Another place another time...